Hi there again!
Last year YOU all helped us name this show when I put up a poll here in this forum.
This year we are bringing the show BACK and it will take place THIS THURSDAY in Los Angeles in our new and larger venue! Here's all the info:
PEEPSHOW MENAGERIE presents
PLEASE TEASE ME! - A Burlesque Tribute to THE FAB FOUR
From the people who brought you "Burlesqueland!", "Beneath The Surface", "Beach Blanket Burlesque" and "The Science Of Burlesque!"
SEE: Beautiful 'Fab Four' influenced Burlesque Performances!
HEAR: The music of The Beatles
LAUGH: At The Mop Top inspired comedy!
Featuring Burlesque from:
Miss Viva Las Vegas 2008:
DIZZY VON DAMN!
Boston Burlesque Expo 2010's
Best Solo Performance & Legends Award Winner:
SCARLETT LETTER
CHARLOTTE LA BELLE ARAIGNE'E
POLLY PEABODY
RED SNAPPER
RED SONJA
PINKY PETITE
MISS ANGIE CAKES
DAHLIA DeLUST
MISS JOSIE BUNNIE
PANAMA RED
JUDY LUCK
COQUETTE LA ROQUETTE
Comedy and Music from:
CLOWNVIS PRESLEY
Hosted by our Fab Four:
PATRICK THE BANK ROBBER
MR. SNAPPER
PRIX DE BEAUTÉ
ALI OOPS
Special Appearance by:
REX THE IMPOSSIBLE
And don't miss our group performance tribute to "I Am The Walrus!"
All this for only $12? Yes Indeed!
CLUB MONTE CRISTO
3102 Wilshire Blvd
Los Angeles, CA 90010
(on the 2nd floor of the corner of Wilshire & Westmoreland. Entrance in the rear from parking lot)
Valet Parking $5 / Free Street Parking where available.
21 & Up, Full Bar
produced by CHRIS BEYOND & SCARLETT LETTER
This is a big show and we won't be doing advanced tickets so please get there to line-up early for best seating/viewing area (and more especially to try to get free street parking - but please watch the signs where you park as I heard somebody got towed last month). We plan to start the BURLESQUE section of the show at 9:45pm SHARP as WE WILL NOT HAVE A BAND FOR THIS PARTICULAR SHOW.
Watch
http://www.peepshowmenagerie.com/
for more info as it comes as well as following us on facebook.
http://www.facebook.com/burlesquepeepshow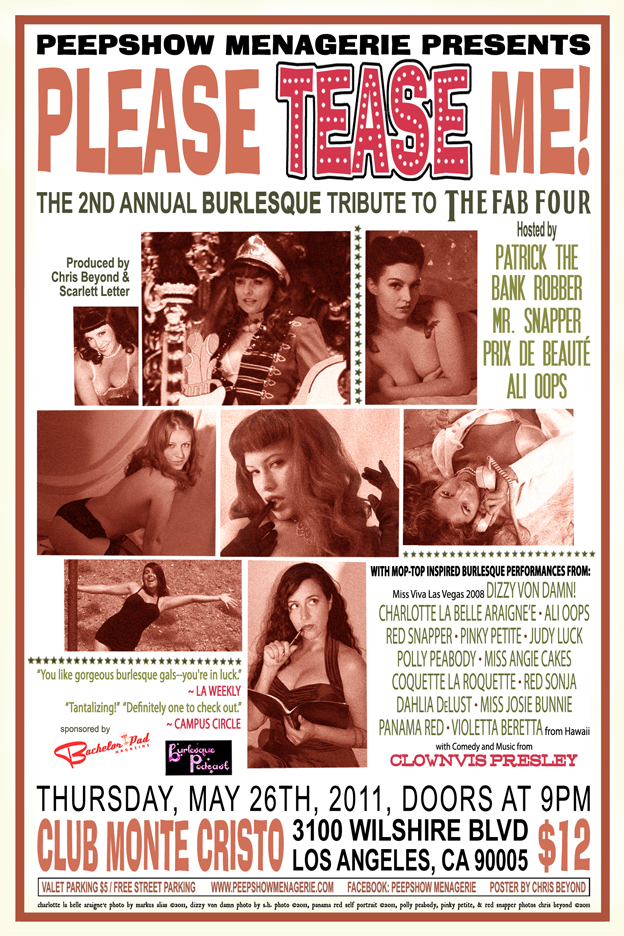 We hope to see you all there! This is definitely a show for fans!
~ Chris Beyond
co-producer, peepshow menagerie
http://www.peepshowmenagerie.com