Very cool interview
http://www.musicradar.com/news/guita...reakers-226467
Mike Campbell admits that, of all the records he's made with Tom Petty And The Heartbreakers, the hardest to get right might be The Live Anthology, due 23 November - and he didn't even have to pick up his guitar for it.
"It was quite an undertaking," he says of the 4-CD set that cherrypicks 48 beloved Petty classics, little-heard chestnuts and intriguing covers from 1978-2007. "It took us a couple of years. There was a lot of searching through old tapes and trying to find tapes, a lot of listening. But we found some gems and figured it was worth putting out."
As Campbell points out in an exclusive interview with MusicRadar, he worked closely with engineer and producer Ryan Ulyate on The Live Anthology, combing through thousands of hours of tapes to find versions that "might not be definitive, but they show off the band's spark. That was the most important thing: do these songs have life? I didn't care if there was a mistake or two - that's what makes a band a band, you know?"
Campbell knows of where he speaks. During their 30-plus career,
Tom Petty And The Heartbreakers
have established themselves as one of the world's most durable outfits, blending the ringing guitars of The Byrds with a Stonesy swagger over a bulging catalogue of tight, hook-filled songs that seem to grow better with age.
The Florida-born Campbell hooked up with Petty in the early '70s when the latter was in the band Mudcrutch. (That band would reform last year, with Campbell joining in.) After Mudcrutch broke up, Campbell moved to California and became a core member of Tom Petty And The Heartbreakers, which also included keyboardist Benmont Tench, drummer Stan Lynch and bassist Ron Blair.
Most of the original band is still together (Blair has returned to the fold, having quit in the early '80s; his replacement, Howie Epstein died in 2003. Drummer Lynch left the group in 1994 due to creative and personal tensions; British drummer Steve Ferrone has played with the band since), a point of pride for Campbell.
"Keeping a band together is more work than anybody will ever tell you," he says. "But if you have something special, a bunch of guys who play well together, and a brilliant singer and writer who's truly unique, you owe it to yourself and your fans to keep going. More than anything, I think this new album proves our staying power."
Did the band always record their shows?
"In the early days it was all analog and we would record occasionally. We were able to find some of those old tapes which had to be baked and transferred to digital because they were rotting. [laughs] With the advent of Pro Tools and digital recording, I think they record every show."
Who all was involved in the process? I would think with so many tapes, so many performances, it could lead to some arguments.
"Basically it was me and Tom and Ryan Ulyate, our engineer-producer - he gets huge credit for this. Tom came to me originally and said, 'I want to do this. We should go through all our stuff and pick out the highlights of all our live performances from the last 30 years. I'm busy, you go do it.' [laughs]
"I got Ryan, and he found the stuff, compiled it for us, and as we narrowed it down, we brought Tom back on board and he got real excited and got hands-on involved in finishing it with us."
Were some of these pleasant surprises - or horrors, if you will?
"Well, there some rough spots. We had one criteria: focus on the vocal. Almost every time, if the vocal is really good, the band is almost always good too. You might have takes where it was 'Oh, that was an incredible guitar solo,' but you know, Tom couldn't hear himself or there was some technical problem. So basically, we just went ahead with, If the vocal is great, then we'll start with that and see if everything else holds up. That seemed like a pretty good way to go."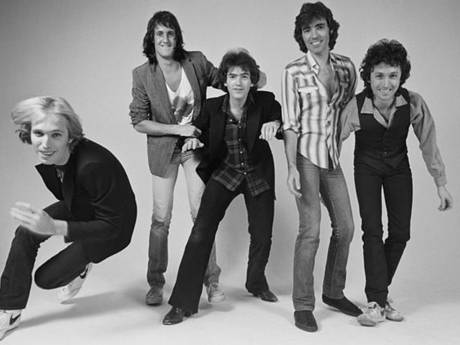 Tom Petty And The Heatbreakers get goofy in 1981 © Lynn Goldsmith/Corbis
"It was very enlightening and exciting to hear some of this stuff after all these years, to hear the different eras of the band and the excitement of the early lineup back in the late '70s and '80s, and to hear how kinetic that energy was when we were just breaking through - and then, later on, when the band matured and changed, that was exciting, too."
What was it like hearing some of band members who are no longer with you?
"It was hard, especially with Howie. There were some things we were listening to where he was singing so good, and it made us sad for him. We wish he was still here. But we found some stuff with Stan Lynch on the drums that was incredible. He was always really great live. It was nice to hear that, you know, we didn't suck! [laughs] We were actually pretty good.
"It was kind of staggering. This band has been together for so long and we've just had our noses down doing the work along the way, and when you look back and go, 'Wow, we really did all that. That's a lot of work.' It was nice to see that a lot of the music held up well."
Let's go through some of the cuts for your reflections. There's Nightwatchman, which is from 1981 at The Forum in Los Angeles. I always thought that was an underrated track.
"We were really thrilled to find that take, because we only played it live three or four times. I don't remember it being part of the set for very long, because it was kind of an album track, it wasn't a single or anything. But you can hear on this version that the crowd really knows the song."
Plus, that song always had a really good swing to it. I attribute that to Stan Lynch.
"Yeah, yeah. It wasn't easy [laughs], but we did find a good groove on it."
Then we have a few cuts from 1980 at The Hammersmith Odeon in London - Even The Losers and Here Comes My Girl - when you were still being called a 'New Wave' band.
"That was back in that era when they were trying to put labels on things. Those particular tracks I really like because you hear the spiritual energy of the band at that stage. We were just about to break through on Damn The Torpedoes. You can tell that the band is just discovering, you know, 'This is gonna work. This is gonna take off, and we're gonna go with it.' I'm real happy we got those."
Next up are a couple of covers you guys do: I'm A Man by Bo Diddley, from 2006, and I Just Want To Make Love To You by Willie Dixon, from 1995. What goes into the band deciding which covers to do?
"That's usually in rehearsal. Somebody will come in and go, 'I heard this great song,' and we'll start playing it and we'll go, ' This is good, we should put it in the show.' That's what happened with both of those. I'm A Man we played pretty much during the 2006 tour.
"I Just Want To Make Love To You was not in the setlist. [While compiling the anthology] We saw it on there and we were like, 'Did we play that at a gig?' And we put it up and it was like, 'Wow, this is really good.' I think that was one of those nights where Tom just thought, 'I need to put something out into the mix to shake things up.' So that's a very spontaneous, unrehearsed version, but that's what I like about it."
There's a dynamite version of Refugee from '83. I remember reading when Damn The Torpedoes came out that you guys couldn't play that song a lot live because Tom would blow his voice out.
"That song is just a bitch all the way around. It was hard to record, it was to get the groove, it was hard to make the record and it's hard to do live. It's a simple song…and it was hard to find a good live take.
"Out of all the thousands of versions of Refugee we had from all over the world, that one and American Girl were the hardest ones to find. There were a lot that were really good, but not great. The one that we did find does have that urgency in the vocal that is so undeniably real. It's a tough song to sing."
Yeah, he's gotta go for it.
"I'm glad you mentioned that because the vocal is really good. It's interesting - when Tom is on his game, the band just steps up and everything works."
One of the more head-turning covers is by Rod Argent, the song I Want You Back Again.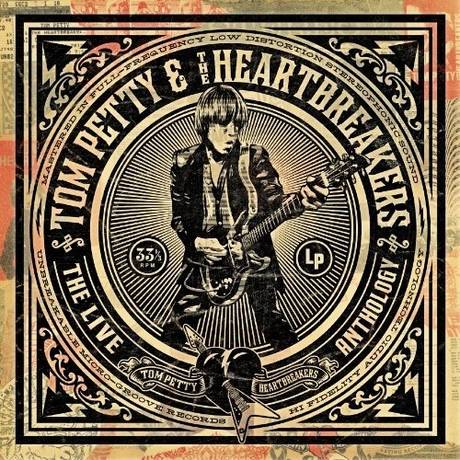 "Yeah, The Zombies. Tom brought it in one day. We did this run at The Fillmore, we did, like, 24 nights or something, and we had the freedom to try things and bring in the odd cover. That was a song we always liked a lot. I don't know if it was a big hit or not, but it was a really cool song and we started playing it at soundcheck one day and we thought, 'This should go in the show. It sounds really good.'"
You have a really wonderful version of A Woman In Love from the Forum in '81. That song is just a classic. What went into picking that version?
"Well, I'll tell you what's interesting: it wasn't going to be on the record at all. We went through a lot of takes, and we found that take. I really liked it and Ryan really liked it, but Tom was going, "Ah, no, I didn't really sing it good.' Me and Ryan just looked at each other like, 'Oh God, this is so good…'"
"Ryan took it home and kind of remixed it and tidied it up a little bit and played it for us again and Tom was like, 'Oh, that's great. I didn't realize how good that was.' So that kind of came in at the last week and we were able to get it back in there. Ryan pulled it out of his bag of tricks."