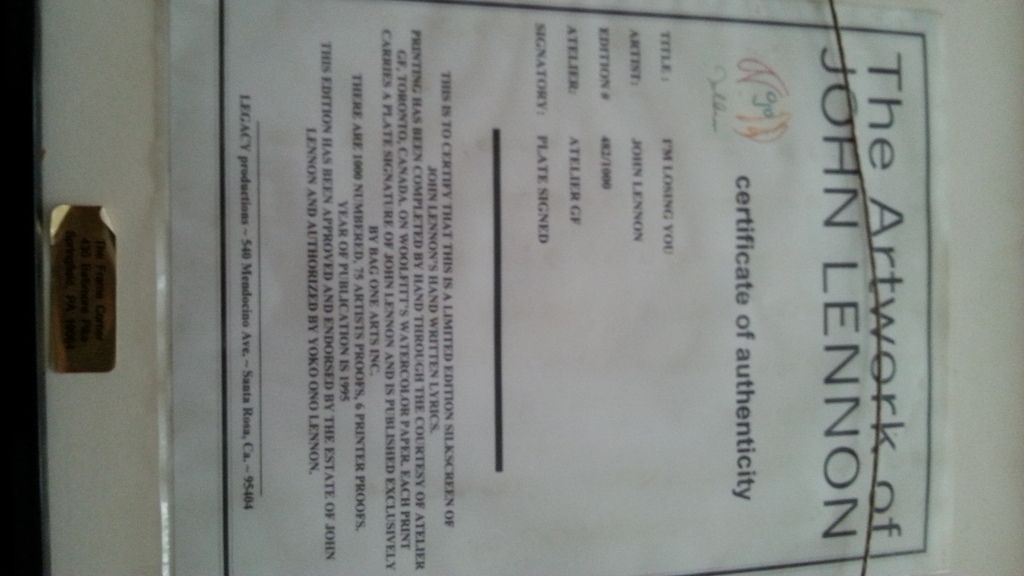 Asking $500
In 1995 Yoko Ono published two handwritten lyric portfolios - The Beatles Years and the Solo Years. Each portolio contained ten of John Lennon's most loved songs published as limited edition fine print editions.
I'M LOSING YOU
Published by Bag On Arts in 1995
25 x 27cm
Silkscreen on Woollfitts watercolour paper
Numbered edition 1000
Hey All,
Due to some recent hardship, Im selling my John Lennon "Im Losing You" Bag One Seriograph of Handwritten Lyrics Limited Edition. I am the original owner. Has COA. Had it professionally framed on Archival Material with Special Museum glass.
In Mint Condition!! Excellent Gift! 100% Authorized by the Estate of John Lennon!
If interested please contact me, PM or email intothebluevelvet@gmail dot com
Asking $500 (open to offers)
Verified Paypal
Thanks
Mike (MFPOE)