Beatles Tribue Cruise vs The Fest For Beatles Fans!
As I'm sure you've heard, I'm putting together this great
Beatles Tribute Cruise
(if you haven't heard…then where have you been?) In the process of putting this cruise and a great line up of guests…oh come on…you mean you haven't heard that part either? OK…for those of you who never open your email or have never read my blog before here are the basic nuts and bolts.
We sail from Ft Lauderdale on 3/28/10 on Royal Caribbean's amazing ship called the
Independence of the Seas
for 6 nights of luxurious cruising in the Western Caribbean. We'll stop at Belize City, Costa Maya and Cozumel.
My Beatles guests include:
BritBeat- America's Premier Tribute to the Beatles
May Pang…yes…John Lennon's former girlfriend
Nancy Lee Andrews- Ringo's former girlfriend for 6 years
Shannon- the World's Greatest Beatles Artist
Paul Saltzman- Beatles photographer and author of "The Beatles In Rishikesh"
Jorie Gracen- Paul McCartney's photographer for 23 years
They'll all be bringing their books, photos, and artwork, doing Q & A sessions, signing autographs, mingling with our cruisers and dancing their asses off to BritBeat's three private performances. Yes, I said private because all of our Beatles events (and if you want to see the complete list go to our Cruise Website) are just for our Beatles Tribute Cruisers…they are NOT open to the other people on the ship.
Now, one of the questions I have been is asked a lot is "Is this going to be like the Beatles Fest on the water?" I want to make this perfectly clear…this is NOTHING like the Fest because there is nothing like being on one of the most luxurious cruise ships in the world…NOTHING.
Your cruise includes almost everything…all meals are included…and not just any meal…we're talking Top of the Line…High Class food …with White Glove Service at EVERY MEAL…and it's all-you-can-eat at every meal. If you want 4 shrimp cocktails for dinner…you can have it…on lobster night if you want a second or a third or a fourth lobster…you can have it. Each dining room is beautifully appointed and the highly trained wait staff just wants to please YOU. What if you and your wife want a quiet meal together? You can have that too in any of the specialty restaurants like Chops Grill or the Portofino Italian Restaurant or you can just have a relaxing breakfast, lunch or dinner in the 24-hour buffet. Oh, don't worry the kids will have plenty to eat at the pizza parlor or Johnny Rockets or Ben and Jerry's. This cruise ship has every kind of food and every level of food service you can thing of…and probably a few you wouldn't think of.
Now something to do during the day (all included in your cruise at no extra charge)…besides our Beatles events that is. There is, of course the 2 swimming pools and 4 hot tubs on the pool deck and an indoor/outdoor pool/ lounge with a retractable roof just for adults called the Solarium. There is the incredible Flow Rider (a surfing hill with moving water…your kids will love it), a Rock Climbing Wall, Ice Skating Rink, Full Court Basketball court that can also be used for volleyball, a nine-hole Miniature Golf course and don't forget the day spa where you can get in a great work-out and try numerous different types of massages and facials, skin treatments as well as having your hair and nails done for the dress evening.
At night this ship really rocks, when you are not dancing to BritBeat, there are three different discos and nine clubs and bars (all too numerous to mention) and of course the casino. You'll find me at the BlackJack table where I have been known to pay for a whole cruise on a lucky night. Some of my best cruise memories took place in the Casino. Care to play at a table with May Pang, Shannon and Nancy Andrews…I know I do…btw our special Beatles guests will be out and about the whole cruise they will not be hiding in their cabins, unless they need some rest after our special Costume/Dance Party with BritBeat with a set list that is all High-Octane Beatles Dance numbers.
Now what about the kids? The cruise line has that all figured out. There is cruise camp for all ages of children (as long as they are potty trained) and numerous special areas for them as well like: The Living Room and Fuel for Teenagers and Adventure Ocean and the H2O Zone for little ones. Imagine this: your kids will be having more fun than you will on the Independence of the Seas. And yes…of course they are late night programs and babysitters for the kids so you can dance your ass off with BriBeat, May Pang, Shannon, Nancy Lee Andrews, Paul Saltzman and Jorie Gracen.
Special Activities for our Beatles Cruisers include:
Shannon's book tour- the World's Greatest Beatles Artist is releasing her first book and our cruise is the first stop on her international book tour.
Question and Answer session with May Pang and Nancy Lee Andrews: May and Nancy will take you back to the time they met when John and May rented Peter Lawford's house on Santa Monica Beach in order to record Harry Nilsson's Pussycats album. Living with them were Ringo, Keith Moon, Klaus Voormann and Harry Nilsson. I'll bet they have some great stories to tell.
Paul Saltzman's "Beatles In India" slide presentation
Q & A session with Jorie Gracen called "Behind the Lens with Paul McCartney"
Plus, Beatles Trivia Contest with GREAT Beatles Prizes, In the Studio/Karaoke session, raffles, vendor sessions, autograph signings with our guests and a very special Beatles Guitar Workshop with BritBeat. Plus our Opening night- Open Bar- Meet and Greet with our Special Beatles Guests.
One other thing our
Beatles Tribute Cruise
is a fund raiser for the Dara Roberts Fund. Dara is a young Beatles Fan with Cerebral Palsy who is attending Stanford and needs a tremendous amount of special equipment to attend this prestigious school on her own.
So, NO…this is nothing like the Fest for Beatles Fans…it's much better…btw if Mark Lapidos would like to join us he can book his room just like anybody else, by going to our
Beatles Tribute Cruise website.

Sky of Blue…Sea of Green…on the most incredible vacation you have ever seen!
Woody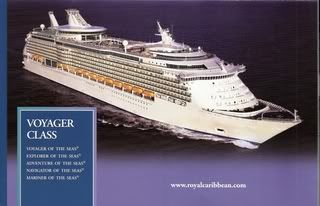 Comments
0
Comments
Recent Blog Entries by BeatlesTributeCruise